Diversity, Equity + Inclusion
Mary Free Bed's commitment to a diverse, equitable and inclusive environment is part of our culture. It's about embracing everyone, seeking connections in our similarities and celebrating our differences.
Diversity is multidimensional. It encompasses a range of individual distinctiveness critical to providing care that best meets our patients' needs.
Rehabilitation takes hard work, and we recognize that patients achieve better outcomes when we're intentional about inclusivity, from exemplary, equitable care to collaborative communication and innovation.
We're working diligently to be an organization that offers unique experiences and diverse perspectives that prove positive for our patients and their loved ones, our employees and the communities we serve.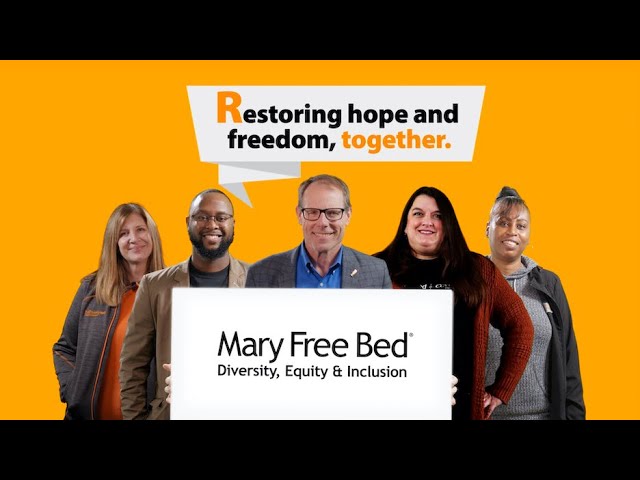 OUR COMMITMENT
We'll embrace diversity, equity and inclusion by:
Treating everyone with dignity and respect.
Opening more doors to opportunities for underrepresented cultures.
Growing talent and people.
Evaluating and eliminating disparities.
Taking action against injustices, bias and racism.
Honoring our differences and how to collaborate.
Educating staff, patients and the communities we care for.
Restoring hope and freedom, together.
Scholarships
To help cover the cost of education and enhance staff diversity, the Mary Free Bed Guild created two programs: Diversity Scholarships and Ability Scholarships.  
Over the life of these programs, more than $830,000 has been presented to 100-plus deserving students.  
Growing Together
To be a center of healing where everyone feels valued and supported, we developed a framework organized into six overarching themes: 
Organizational Values
At Mary Free Bed, we effectively demonstrate our commitment to a diverse, equitable and inclusive organization and support all communities we serve. 
Governance 
We have the necessary oversight to support organization-wide accountability to our diversity, equity and inclusion objectives. 
Planning and Monitoring 
We effectively collect, track and use data that helps foster a diverse, equitable and inclusive environment. 
Communication and Engagement 
Our exchange of information, both internally and externally, effectively promotes and supports our commitment to diversity, equity and inclusion. 
Staff Development
We provide education and resources to ensure all current and future team members are equipped to foster and develop a diverse, equitable and inclusive environment. 
Organizational Infrastructure
We have appropriately designated organizational resources necessary to implement diversity, equity and inclusion strategies that support an inclusive care, work and service environment. 
These efforts are led by a committee of executive-level leaders with input from employees across our service lines. 
Careers
Striving to create and foster a diverse and inclusive workforce affords everyone opportunities for growth and success.  
Here's what some of our employees have to say:
Dr. Beth Blackbird
Psychologist
Team member since 2002
The opportunity to serve patients and the commitment she witnesses by others to do the same is what Dr. Blackbird enjoys most about working at Mary Free Bed. That commitment includes a focus on diversity and inclusion.
"I think (this) work is something that is never done and an ongoing direction to head, something to take into our hearts and be very intentional about in countering internalized biases and privileged blind spots," she said. "It is not so much a question of how Mary Free Bed is doing, but how we on staff are each doing on that journey; it's an issue of personal (as well as corporate) responsibility."
Bruce Brasser
Chief Clinical Operations Officer/Chief Nursing Officer, Mary Free Bed Rehabilitation Network
Team member since 2002
Bruce became acquainted with Mary Free Bed long before he became an employee. He worked as a nursing leader at a local trauma center that referred patients to Mary Free Bed for care. His child also needed services provided by Mary Free Bed, and before that, his mother was a volunteer when the hospital was located on Cherry Street.
Today, as COO of the Network, Bruce supports teams in many rehabilitation units across the state and northern Indiana.
"While each partner hospital has unique features, there are many things that we have in common, and we have developed strong partnerships," he said. "I take very seriously the responsibility to be the executive working closely with our partners throughout the Network."
Rehabilitation care is extremely personal, Bruce said, noting interpersonal connections are critical to the best outcomes, which occurs through mutual trust and respect.
"Each employee at Mary Free Bed brings a unique perspective based on their training and experience," he said. "We share a common commitment to our patients. Mary Free Bed has taken many steps to recognize, appreciate and respect each employee and each customer."
Mitchelle Limo
Interprofessional Documentation Specialist, Nursing Administration
Team member since 2015
Mitchelle's proud to be part of the Mary Free Bed family.
"Our staff members are phenomenal – they're dedicated to their patients and do a great job to ensure they regain the highest functionality prior to returning home," she said. "I have experienced many miracles here."
Since she joined Mary Free Bed, Mitchelle has advanced into different leadership positions and felt fully supported by her manager.
"My upline was always encouraging growth in different areas, encouraging participation on committees and events related to my field," she said. "I've seen others grow in different capacities, too."
She's also encouraged by Mary Free Bed's efforts toward diversity and inclusion: "I think MFB is doing a good job actively engaging staff, like sending out monthly newsletters, planning activities honoring different minority groups and offering scholarships."
Stacey Willis Jr.
Business Analyst
Team member since 2019
What does Stacey enjoy most about working at Mary Free Bed? "I love the warm environment – everyone's friendly." He also appreciates being supported in his job.
"I'm respected for my contributions," Stacey said, noting he's been acknowledged for his work by teammates, his manager and "even" CEO Kent Riddle. "Mary Free Bed supports its employees and provides opportunities for growth and development."
He also appreciates that diversity and inclusion is valued.
"I see it daily in our work environment," Stacey said. "We even have monthly celebrations that highlight various cultures as well as education opportunities."
Education and Engagement
We fuel our diversity, equity and inclusion efforts with educational initiatives and activities that connect us. All are designed to help us better serve our patients, employees and community. For example: 
Cultural competence training and implicit bias education for all new and current employees, offered virtually and in person. 

 

"I Act On" Pledge, a CEO Action for Diversity & Inclusion initiative to advance diversity and inclusion in the workplace.

 

"Connecting through Cultural Conversations," monthly facilitated conversations for employees to discuss a range of issues and topics centered around diversity, equity and inclusion. These meetups provide a safe space for education, togetherness and healing.

 

A monthly "Connecting Cultures" e-blast highlighting internal and external inclusion education, events and news.

 

An internal website dedicated to diversity education and exploration.

 

In the works: Employee resource groups.

 
Community Engagement
Mary Free Bed joins with cultural and community organizations to develop a more diverse candidate pipeline and to support the communities we serve.  
Our partnerships include:  
Association of Rehabilitation Nurses, ARN (West Michigan, National) 

 

Black Nurses Association 

 

Grand Rapids Chamber of Commerce 

 

Grand Rapids Pride Center

 

Grand Rapids Urban League 

 

Kent Intermediate School District 

 

LGBTQIA+ Healthcare Consortium 

 

Michigan Veterans Affairs Agency 

 

NAACP 

 

Talent 2025  

 

Urban League 

 

West Michigan Center for Arts and Technology (WMCAT) 

 

West Michigan Diversity Officer Collaborative 

West Michigan Hispanic Chamber of Commerce  

 

West Michigan Works 

 
Supplier Diversity
Mary Free Bed is committed to partnering and developing relationships with diverse suppliers.  
We support and provide equal access to supplier opportunities for businesses owned by minorities, women, veterans, people who identify as LGBTQ+ and people with disabilities.