PM&R Residency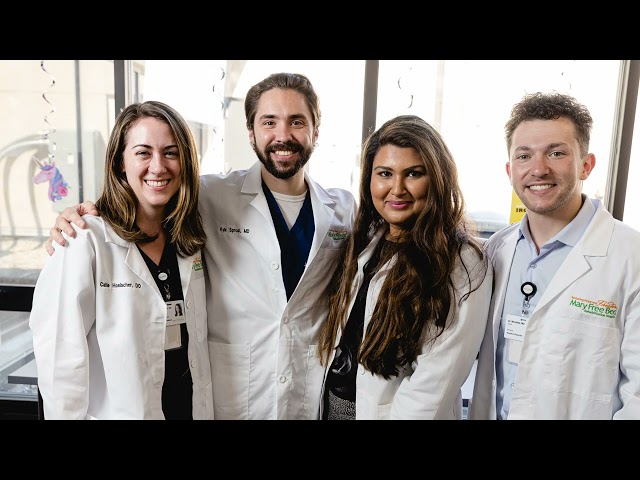 Welcome!
Mary Free Bed Rehabilitation Hospital has helped to restore hope and freedom to thousands of people for more than a century. Recent years have brought tremendous growth, from new programs and technology to a $66.4 million expansion and renovation. The project features a new hospital that makes Mary Free Bed the fifth-largest freestanding rehabilitation hospital in the country. With 167 private inpatient beds, we can help even more adults and children than ever before.
But, growth is more than bricks and mortar. We're committed to excellent research and education in addition to the unsurpassed clinical care we continue to provide.
Mary Free Bed partnered with the Michigan State University College of Human Medicine to create the John H. Butzer Center for Research and Innovation. This collaboration sets the stage for leading-edge research and evidence-based rehabilitation care with a focus on outcomes measurement.
U.S. News & World Report ranked us a 2022-2023 Best Rehabilitation Hospital, and Newsweek named Mary Free Bed the top rehabilitation center in Michigan for 2022. We're accredited by the Accreditation Council for Graduate Medical Education (ACGME), both as a sponsoring institution and as a residency program.
We're a single-specialty teaching hospital with an ACGME-accredited residency in physical medicine and rehabilitation. This three-year advanced PM&R residency program (starting at PGY-2) offers high-quality training in all areas of physical medicine and rehabilitation. Mary Free Bed's combination of more than 110 specialized medical and sports rehabilitation programs and services enables our specialty physicians and staff to help patients achieve outstanding clinical results. We provide experience in all clinical areas, including brain injury and stroke rehabilitation, spinal cord injury medicine, spine and musculoskeletal care, and pediatric rehabilitation. Other programs include cancer rehabilitation, ventilator and pulmonary rehabilitation and spasticity management.
Residents will have opportunities to work in a wide variety of clinical areas, including our Orthotics & Prosthetics + Bionics, Assistive Technology and one of the largest Wheelchair & Adaptive Sports programs in the country.
While you're considering residency training in physical medicine and rehabilitation, you're planning significant personal growth in knowledge and skills. We're excited to share our faculty's expertise, wide variety of clinical experiences and research programs.
Please explore our website to learn more about us. We look forward to receiving your application to the Mary Free Bed Physical Medicine and Rehabilitation Residency program.